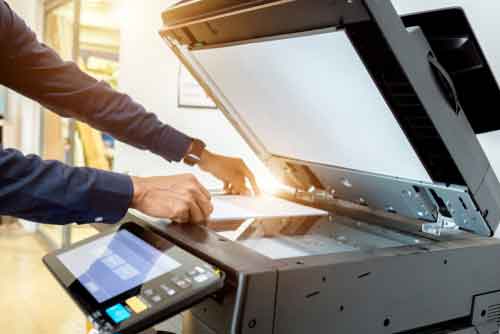 Looking to support your business' day-to-day operations without breaking the bank on expensive new equipment? Authorized Office Systems, Inc. brings you the best in reconditioned copiers for sale in Largo, FL. You'll get all the benefits of a state-of-the-art machine, without the big-ticket price tag that comes with brand-new models.
Rest assured, our used copiers for sale in Largo, FL have been thoroughly inspected, tested and reconditioned by our staff. You're guaranteed a working unit that'll feel brand-new! Plus, you'll get all the support you need from our well-trained crew of techs.
Brand-Name Copiers
Just because you're buying used doesn't mean you have to settle for an off-brand copier! We take pride in bringing our customers reliable machines from top-tier brands like Konica, Minolta, Ricoh, Sharp and Toshiba. Our expertise with these brands means you can expect a copier that's cleaned-up, fine-tuned and thoroughly inspected for function and quality.
Get the Features You Need
Our selection of refurbished copiers for sale in Largo, FL includes machines at all price points, with a range of features. Just tell us what you're looking for and what your budget is and we'll pair you with a copier that's sure to benefit your business and help you work more efficiently. Used copiers are a great way to take advantage of state-of-the-art tech and modern benefits.
Get More for Less!
If your business needs a new copier, we encourage you to shop our refurbished selection. Let us show you the great return on investment of buying a gently used option, instead of a full-priced piece of new equipment. We promise it'll be a boon to your business.
Contact Authorized Office Systems, Inc. today at 727-581-3323 to learn more about the used copiers currently in our inventory or to inquire about machines within your budget.