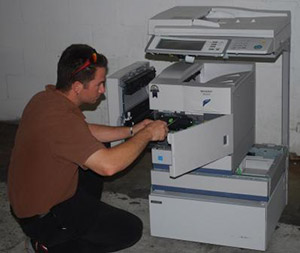 In an office environment, every piece of technology plays its own role in helping us to get our jobs done right. When it comes to scanners and fax machines, it's all about digitizing and transmitting documents in a way that allows us to make sure the right people have the right items in hand. But, when our scanners and fax machines don't work, it's a disruption to any business—and a costly one at that.
Authorized Office Systems is proud to be able to offer fax machine and scanner repair in Largo, FL to all businesses seeking assistance, and our years of experience speak to our ability to make quick work of these costly problems to get you back on track with your day to day business needs. From simple paper jams to complex part replacements and everything in between, we've got a seasoned eye to lend to your troubles!
What's more, when we provide service and repairs to your scanner or fax machine, you can have please of mind knowing that all of our work is backed by a quality warranty! We're confident in our ability to provide you with sustainable solutions and if for some reason something doesn't meet that requirement, we'll be back on site to make sure that it does.
Copier sales
If the time has come for your business to upgrade its copying capabilities or your current copier is on its last legs, let Authorized Office Systems, Inc. help you find the right copier to fulfill your needs. We offer quality options from Konica-Minolta, Ricoh, Sharp and Toshiba.
For more information about all of the services we offer or our ability to help you keep your office equipment in prime working condition, please don't hesitate to give us a call today at 727-581-3323—we'd love to show you why we're so trusted for repairs and service by all of our customers! Ask us about repairing your printer or copy machine too!