Authorized Office Systems, Inc. is practicing social distancing guidelines for the protection of our staff and customers.
We are regularly sanitizing the office for walk-in appointments and ask that everyone practice safe social distancing and wear a face mask when possible!










Office Equipment Repair & Maintenance in Tampa Bay
Since 1987, Authorized Office Systems, Inc. has been serving the Tampa Bay area with unparalleled repairs and maintenance services for a wide variety of office equipment, including printers, copiers, scanners and fax machines. We service all types of machines regardless of brand and always offer warranties on the services we provide.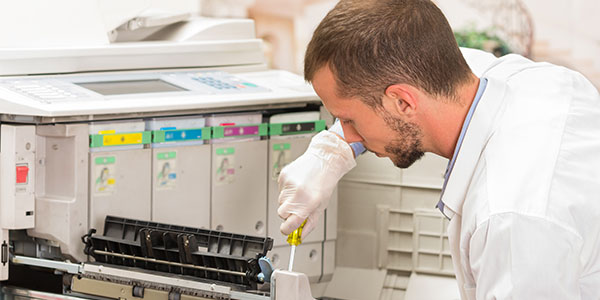 Your Source for Office Equipment Repair in Largo, FL
A business can only function as good as the tools and equipment that it's given, which means taking supreme care of each and every vital office amenity. Unfortunately, this is often easier said than done—all it takes is one print malfunction, one copier problem, a single fax machine woe or some other problem and your business' function is disrupted tremendously. For these situations and more, there's Authorized Office Systems, Inc. We don't just put a bandage on the problem: we provide solutions that last, to keep your office equipment in prime functioning shape and help you to see them functioning longer.
At Authorized Office Systems, Inc., we know office equipment problems aren't cheap— especially when they require you to make an investment in brand new equipment. To help our customers save money and headaches, we do all we can to keep your products functioning on a steady foundation. From providing unparalleled repairs to alleviate problems both major and minor, to helping you stay on top of essential maintenance items that can prevent the big breakdowns, we're more than happy to be your encompassing, trusted repair professionals. Take a look at a few more reasons business' choose us for their printer repairs in Largo, FL:
We are a member of the Business Technology Association.
We have more than 25 years of professional, hands-on experience!
We proudly serve Hillsborough, Pinellas, Pasco and Manatee Counties.
We're proud to retail Konica-Minolta, Ricoh, Sharp and Toshiba brand office copiers.
We are experienced will all major brands of office products and office printers in Largo, FL.
Proudly providing office printer repair services and copier sales to the following areas:
Hillsborough County, FL
Pinellas County, FL
Pasco County, FL
Manatee County, FL