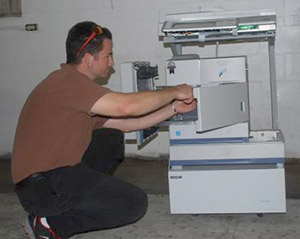 When it comes to office equipment, few things are as important as your printer or your copy machine. These items are used on a daily basis, often in heavy capacity, meaning they see tremendous wear and tear frequently. As a result of excessive use, these items also tend to develop problems more readily than other items in your office environment, making it paramount to find a trusted repair professional who can restore them to full working order quickly.
Authorized Office Systems has years of hands on experience in fixing the full gamut of copier and printer problems you might encounter, and our trained professionals are confident in their ability to make your problems a thing of the past. From complete breakdowns the leave you without any function at all, to minor hiccups that leave your documents looking less than professional, we're on hand to help.
What makes Authorized Office Systems, Inc. such a reliable source for printer and copier repair in Tampa-Largo is our familiarity with just about any make and model you're liable to have in your office. Take a look at some of the top names we're familiar with:
Cannon
Konica-Minolta
Lanier
Let us be your first and only call for copier and printer issues and you'll quickly see that our technicians are all you'll ever need to keep these vital pieces of office equipment in top working order.
Copier sales
If the time has come for your business to upgrade its copying capabilities or your current copier is on its last legs, let Authorized Office Systems, Inc. help you find the right copier to fulfill your needs. We offer quality options from Konica-Minolta, Ricoh, Sharp and Toshiba.
For more information about all of the services we offer or our ability to help you keep your office equipment in prime working condition, please don't hesitate to give us a call today at 727-581-3323 —we'd love to show you why we're so trusted for repairs and service by all of our customers! We also fix scanners and fax machines!